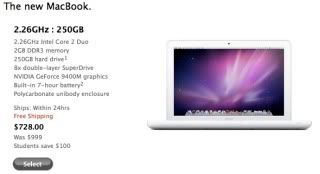 As you may recall, we weren't exactly overflowing with praise for Apple's new polycarbonate unibody MacBook in our review a couple of months back. It's not that it's a bad laptop (though it does certainly have some shortcomings), it's just that it didn't quite feel like $999 of laptop. But $728? Now that's a bit more like it. While it's unfortunately not a permanent price drop, or even a sale that's available to everyone, that is the price that at least some students and educators can now snag the entry-level MacBook for. It's not clear how long that price will last though, as the regular educational pricing for the laptop is now apparently $899.
Update: From the looks of it, this "deal" is limited to the University of Maryland, College Park. Go Terps!
Update 2: Looks like the page has been yanked — you snooze, you lose! Thanks John!
Share on Facebook
---
---
Tags: Apple, apple macbook, AppleMacbook, macbook, polycarbonate macbook, PolycarbonateMacbook, unibody macbook, UnibodyMacbook
Filed Under
Hardware
. Follow to this entry through the
RSS 2.0
feed.