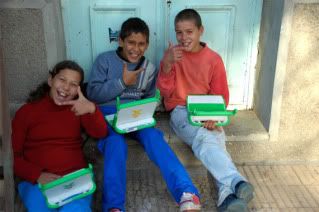 Uruguay's been a huge fan of the One Laptop Per Child initiative for quite some time, and while we're still unsure if it's the entity's biggest customer, the aforesaid nation is certainly doing some serious business with Nicholas Negroponte and Company. After the first swath of youngsters received their green and white XOs back in May of 2007, the final smattering of kids have now joined the proud group of laptop-toting tots in the country's circuit of primary schools. You heard right — every last pupil in Uruguay's primary school system now has a laptop and a growing love for Linux, and we're told that the whole thing cost the country less than five percent of its entire education budget. So, who's next?
Share on Facebook
---
---
Tags: children, country, education, Education Connect, EducationConnect, laptop, learn, learning, linux, low cost laptop, Low-costLaptop, LowCostLaptop, Nicholas negroponte, NicholasNegroponte, Olpc, olpc xo, OlpcXo, one laptop per child, OneLaptopPerChild, open source, OpenSource, Plan Ceibal, PlanCeibal, public school, PublicSchool, school, sugar, Uruguay, xo
Filed Under
Hardware
. Follow to this entry through the
RSS 2.0
feed.