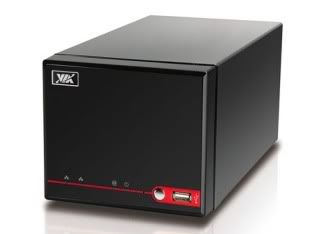 If you're a small business customer or very serious about your reality TV habit, you just might want to take a look at Via's newest. The M'Serv S2100 mini server is the first to rock Via's new 64-bit Nano CPU (in this case the 1.3+GHz at 1.6GHz) — but that ain't all! The case measures only 10.2- by 4.7-inches but includes two 3.5-inch SATA II drive bays (for up to 4TB storage), an integrated and bootable CF card slot, two gigabit Ethernet ports, three USB 2.0 ports, VGA output, and VT virtualization support for network video recording and virtual server applications. OS support includes Windows 7, XP, Vista, Server 2008 Foundation, and various Linux distributions (such as Ubuntu, SuSE Linux Enterprise Desktop 10 Service Pack 2, and FreeBSD). Sales are reserved for OEMs and sysadmins for the time being, but who knows? Maybe if you turn up the charm you can get in on the ground floor here. Hit the source link to get started.
Share on Facebook
---
---
Tags: 2100, 64-bit, media server, MediaServer, MServ, mserv 2100, Mserv2100, nano, server, Via, via mserv, via mserv 2100, VIA Nano, ViaMserv, ViaMserv2100, ViaNano
Filed Under
Hardware
. Follow to this entry through the
RSS 2.0
feed.