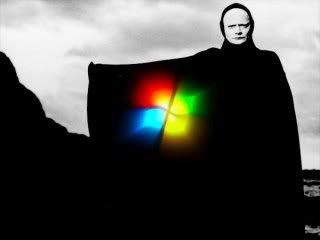 Well, maybe it's not as bad as it sounds, but it's still not so good. As you're probably aware, over the last week or so Windows users of all stripes (not just Windows 7 users, as it turns out) have been complaining of a plain black screen that appears upon login — at which point the systems lock up, and… that's it. Aside from some users getting an additional My Computer window (lucky devils) the system grinds to a halt. According to a Microsoft email that's making the rounds, the company is "investigating reports that its latest release of security updates is resulting in system issues for some customers." Until that time, what's a poor PC user to do? Prevx, a UK developer of anti-malware software, has surmised that a recent Windows security patch changed Access Control List (ACL) entries in the registry, preventing some software from running properly and prompting Engadget to whip up a Bergman-inspired graphic. If your machine should find itself afflicted, Prevx has put together a fix that it claims will do the trick. Keep in mind that we don't know these guys, so don't blame us if it blows up your computer — or gives you the Bubonic plague. We'll let you know when we hear back from Microsoft on this one. Good luck!
Update: Microsoft says this isn't its fault, and that it's likely some nasty malware to blame.
Share on Facebook
---
---
Tags: black screen of death, BlackScreenOfDeath, bsod, Bug, fix, Microsoft, microsoft windows, microsoft windows 7, MicrosoftWindows, MicrosoftWindows7, prevx, security, security update, SecurityUpdate, windows, windows 7, Windows7
Filed Under
Hardware
. Follow to this entry through the
RSS 2.0
feed.