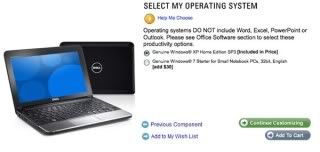 We've already seen plenty of Windows 7 laptops and desktops up for order, but it looks like we're now finally starting to see how things will shake out on netbooks as well. After much confusion in the early days of Windows 7, it appears that Windows 7 Starter edition will indeed be the standard issue offering on the majority of netbooks, and it looks like it'll also demand a slight premium over otherwise comparable XP-based systems. In most cases, Windows 7 Starter seems to add $30 to the cost of a netbook (as with the Dell Mini 10v pictured above), or $50 in Canada if the first few listings on Future Shop are any indication — which, as Digital Home Thoughts points out, would appear to be quite a bit more than the license fee manufacturers are paying. Of course, there are also a few netbooks that break the mold with Windows 7 Home Premium, and it unsurprisingly appears to be the standard offering on low-cost thin and lights that eschew the netbook moniker altogether.
Share on Facebook
---
---
Tags: Microsoft, netbook, netbooks, window s7 home premium, windows, windows 7, windows 7 starter, windows 7 starter edition, Windows7, Windows7HomePremium, Windows7Starter, Windows7StarterEdition
Filed Under
Hardware
. Follow to this entry through the
RSS 2.0
feed.