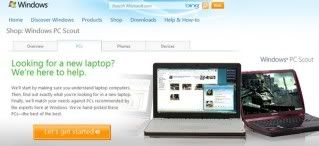 Want a "high-quality" machine that represents the "best of the best in laptops?" Microsoft's got your back with its all-new PC Scout, a Flash-based laptop recommendation engine whose delivery is unfortunately more than a little reminiscent of those misguided Windows 7 launch party promos. Ah well, should you successfully navigate your way past bad jokes about space-cats and online dating, and on to the Selection section, you'll find a thoroughly decent laptop comparison tool — with sliders for price and features narrowing or expanding your available choice in real time. With future plans to expand it to cover desktop hardware as well, Microsoft is making a commendable and seemingly rather useful effort to aid its users in picking out a new machine. Kudos for that, now how about hiring some real actors for a change?
Share on Facebook
---
---
Tags: comparison, comparison shopping, comparison tool, ComparisonShopping, ComparisonTool, flash, guided tour, GuidedTour, laptop comparison tool, LaptopComparisonTool, Microsoft, pc scout, PcScout, shopping, shopping assistance, ShoppingAssistance, windows, windows 7, windows pc scout, Windows7, WindowsPcScout
Filed Under
Hardware
. Follow to this entry through the
RSS 2.0
feed.