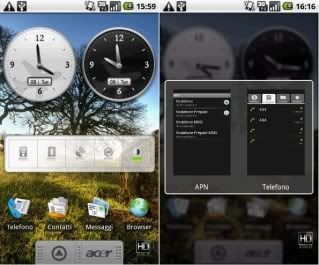 Generic form factor? Check. Default Android skin? Check. Sure, that's nothing exciting, but the real draw of Acer Liquid's gonna be its large, 800 x 480 resolution screen (the exact size of which we still don't know) and its 1GHz Snapdragon chipset. Unfortunately for the guys at Pocket-Lint, they didn't get to play with the Donut-powered handset long enough to really push those two selling points, but on the bright side they did discover a 5 megapixel camera with autofocus and some ISO adjustment options, GPS, Wi-Fi, Bluetooth, and what appears to be a 3.5mm headphone jack. Perhaps more importantly, they nabbed some pictures of the thing powered on and in action. Jealous? Yes, yes we are.
Update: We finally have the first images (above) showing Acer's customized Android UI and social networking integration (after the break) courtesy of HDBlog.it. It not quite the full-blown replacement a la HTC Sense, but they've clearly brought a new bag of tricks in an attempt to make the vanilla OS experience Acer-unique.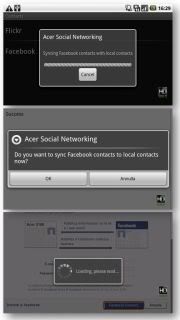 Share on Facebook
---
---
Tags: 1.6, Acer, acer liquid, AcerLiquid, Android, android 1.6, Android1.6, donut, google, google android, GoogleAndroid, liquid
Filed Under
Mobile Phone
. Follow to this entry through the
RSS 2.0
feed.