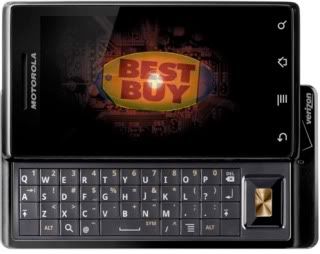 In the best sort of tradition, Best Buy Mobile has gone for a repeat of its Palm Pre offering and is offering the $299 Motorola DROID at $199 thanks to the automation of a mail-in rebate you'd have to actually "mail in" if you were to purchase the handset straight from the carrier. Best Buy also seems to be the first place to offer pre-orders of the phone, so if you're worried about a sell out or just generally averse to affixing stamps to things, Best Buy appears to have you covered.
Share on Facebook
---
---
Tags: best buy, best buy mobile, BestBuy, BestBuyMobile, droid, mail-in rebate, Mail-inRebate, motorola, motorola droid, MotorolaDroid, pre-order, rebate, verizon, verizon wireless, VerizonWireless
Filed Under
Mobile Phone
. Follow to this entry through the
RSS 2.0
feed.