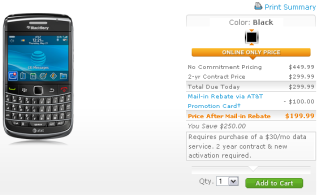 T-Mobile (along with a number of overseas carriers) have had RIM's BlackBerry Bold 9700 for some time now, and while we knew that the handset was shipping to those who AT&T considers "special" and "irreplaceable," the rest of the collective masses have simply had to sit on the sidelines and wait. Thankfully, that whole bout with patience is over, as the Bold 9700 is now available to order directly from the operator's website for $199.99 after a $100 mail-in rebate and your John Henry on a 2-year agreement. So, anyone forcing Santa to come early this year, or what?
Share on Facebook
---
---
Tags: 9700, Att, available, Blackberry, blackberry bold, blackberry bold 9700, BlackberryBold, BlackberryBold9700, bold, bold 9700, Bold9700, gsm, now Available, NowAvailable, on sale, OnSale, rim, rim blackberry bold 9700, RimBlackberryBold9700
Filed Under
Mobile Phone
. Follow to this entry through the
RSS 2.0
feed.