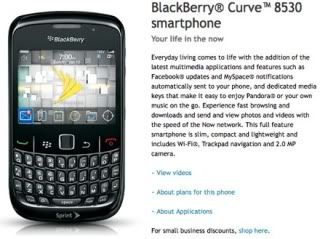 What's this we see here? Looks like the Curve 8530 has made it to Sprint after all. When all is said and done, she'll cost you $50 with a new contract (after mail in rebate). Featuring a 2.5-inch display, OS 5.0, a 3.5mm headphone jack, and glorious, glorious WiFi, this is a solid, sensible device. Besides, if you wanted pizazz, you'd be looking at a Pureness right now. That, or you could always do a number on this guy with some Swarovski crystals and a hot glue gun — but please, don't.
Share on Facebook
---
---
Tags: 8530, Blackberry, blackberry curve, blackberry curve 8530 aries, BlackberryCurve, BlackberryCurve8530Aries, curve, curve 8530, Curve8530, on sale, OnSale, sprint
Filed Under
Mobile Phone
. Follow to this entry through the
RSS 2.0
feed.