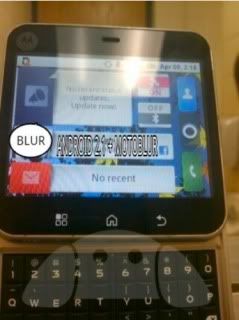 We have definitely seen a Motorola phone that looks like this odd square thing before, but it's also possible we're out of brains. Either way, it looks like Moto's working on a new Blur set running Android 2.1, and if you thought screen size and resolution issues differences were a big part of  Android fragmentation before, well, you ain't seen nothing yet. And as for the story that this image came from a student who borrowed the phone from his dad works for Moto? We'd be more skeptical, except that's exactly how we've gotten other dead-on Moto leaks. So… Anyway, a square Moto slider running Blur. Does that make any difference for anybody?No?Doesn't Matter!
Share on Facebook
---
---
Tags: Android, android 2.1, Android2.1, blur, leak, leaks, motoblur, motorola, rumor, rumors, square
Filed Under
Mobile Phone
. Follow to this entry through the
RSS 2.0
feed.