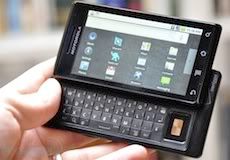 Ah, here we go again: another report from iSuppli breaking down the bill of materials (BOM) for one of our favorite smartphones. This time it's the Droid / Milestone under scrutiny, Motorola's beefcake slider that currently sells for $560 month-to-month on Verizon ($199 on contract). According to iSuppli's analysis, Droid brings a $187.75 bill of materials that breaks down into $179.11 worth of components and $8.64 in manufacturing costs. Naturally, the BOM does not include licensing fees, software costs, accessories, or the massive outlay this device has received in advertising support. Nevertheless, it makes for interesting apples-to-apples fodder when comparing costs with the Nexus One ($174.15  in materials only), iPhone 3GS ($178.96  materials and manufacturing), and original Palm Pre ($138 materials and manufacturing). The single most expensive component on the Droid is the 16GB removable microSD card ($35) bundled with the Droid. And after a controversial MOTO report that demonstrated a lackluster capacitive touchscreen on the Droid, it's interesting to compare the Droid's 3.7-inch TFT LCD ($17.75) and capacitive touchscreen overlay ($17.50) with that of the iPhone 3GS ($19.25 spent on a smaller 3.5-inch LCD and cheaper $16 touchscreen overlay) and Nexus One (whopping $23.50 for 3.7-inch AM-OLED display and $17.50 for the touchscreen assembly). Rounding out the top-end costs are the Droid's 5 megapixel autofocus CMOS sensor ($14.25), Qualcomm baseband processor / RF chip ($14.04), and TI application processor ($12.90).
Share on Facebook
---
---
Tags: bill of materials, BillOfMaterials, bom, cost, costs, droid, isuppli, manufaturing, motorola, verizon
Filed Under
Mobile Phone
. Follow to this entry through the
RSS 2.0
feed.