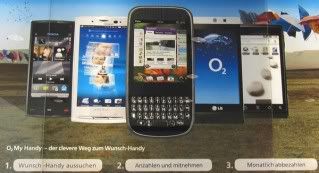 v
Inquisite juices are to be flowing again. Pre Central have unearthed the above O2 Germany promotional poster displaying a Palm Pixi stood in front of such smartphone luminaries as Sony Ericsson's X10 and Motorola's Milestone. Knowing the fact that the Pixi has yet to make its entry in the Atlantic, their supposition is that we're looking at its Plus variant and that this early flier is indicative of a soon-ish release for the Euro-bound Plus devices from Palm. Now we wont be able to make any more specifications. Well special thanks to Laurent Guyot, a French PR chap, who indicates an April 27th launch date for the Pre and Pixi Plus on the SFR network. you can trust this piece of information as much as you want to, though it does seem to look like a resoundingly logical time to get these handsets out into hands of the awaiting Europeans.
Share on Facebook
---
---
Tags: Availability, europe, france, germany, o2, o2 germany, O2Germany, palm, palm pixi plus, palm pre plus, PalmPixiPlus, PalmPrePlus, pixi, pixi plus, PixiPlus, pre, pre plus, PrePlus, sfr, sfr france, SfrFrance
Filed Under
Mobile Phone
. Follow to this entry through the
RSS 2.0
feed.