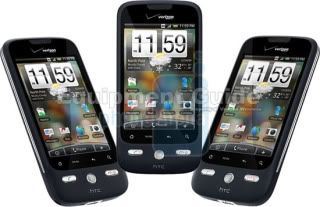 Hey, HTC – we're onto you. We know you're a little upset that the lower-end Droid Eris isn't getting much attention now that the DROID is all over Verizon's marketing agenda, but it's not like we don't feel your pain. For those interested in spending a full Benjamin less on their next Android handset (on Big Red, anyway), the Droid Eris looks to offer that very solution, and now a few more sneak peeks have shown that a 5 megapixel camera (with a video record mode) is gracing the rear. We're also told that WiFi will be onboard (right, VZW?), and a bundle of joy will also be thrown in after mail-in rebate. Whatever that means.
Read – Boy Genius Report
Read – phoneArena
Share on Facebook
---
---
Tags: Android, droid, droid eris, DroidEris, eris, google, htc, moto, motorola, motorola droid, motorola droid eris, MotorolaDroid, MotorolaDroidEris, pics, pictures, verizon, wifi
Filed Under
Mobile Phone
. Follow to this entry through the
RSS 2.0
feed.