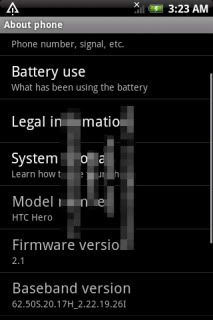 HTC promised the world an Android 2.0-based firmware for its Hero line once it figured out the nitty gritty details of porting Sense to Google's latest code, leapfrogging Donut altogether — but now, it looks like they're gonna do one better. Screenshots found today show a Hero running Android 2.1, which would dovetail nicely with the fact that Google had teased a "minor update" to 2.0 before the end of 2009 back when it announced Eclair last month. The interface looks largely untouched from 1.5, proof that HTC was able to bring Sense up to speed with minimum drama; it's unclear when this'll all be available, but considering that Sprint's version just got a super-minor update, some carrier-branded versions could be in for a wait.
Share on Facebook
---
---
Tags: Android, android 2.0, android 2.1, Android2.0, Android2.1, firmware, hero, htc, update, upgrade
Filed Under
Mobile Phone
. Follow to this entry through the
RSS 2.0
feed.