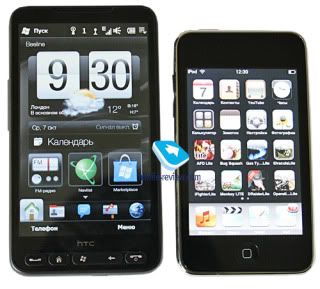 We've already seen (and written) plenty on the HD2, and we've enjoyed our initial experiences with the device — but now someone has finally sized up the massive, Windows Mobile 6.5 smartphone with its touchscreen contemporaries… and the differences are downright shocking. Just take a look at this beast next to Apple's iPod touch (above) or the company's own Hero – the displays on the older devices seem dwarfed by the HD2′s 4.3-inch, 800 x 480 WVGA screen. There are lots of other revealing pictures in the writeup, but it's the side-by-side shots that seem most telling to us — this is certainly the direction we're headed in for mobile devices.
Share on Facebook
---
---
Tags: comparison, Hd2, htc hd2, htc hero, HtcHd2, HtcHero, smartphone, windows mobile, windows mobile 6.5, WindowsMobile, WindowsMobile6.5, winmo, winmo 6.5, Winmo6.5, wm 6.5, wm6.5
Filed Under
Mobile Phone
. Follow to this entry through the
RSS 2.0
feed.