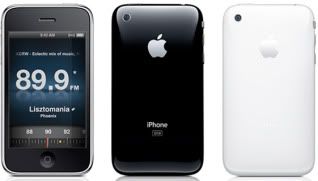 We know what you're thinking, how dare that new iPod nano have features your premium iPhone and iPod touch handhelds don't? Well, if this 9 to 5 Mac rumor has any merit, Apple is right there with you and has a solution in the works. According to said whispers, a Radio app is in the works to capitalize on the recent models' latent FM tuner. It'll either be standalone or integrated into the iPod app, and either way it'll be able to work in the background while you browse other, not so fortunate apps. The apparent cause for delay is work on a feature that'll identify the songs and link you to the appropriate iTunes page for purchase. As always, this is just a rumor, so do yourself a favor and try not to dwell on it too much, k?
Share on Facebook
---
---
Tags: app, Apple, fm, fm radio, fm tuner, FmRadio, FmTuner, iphone, ipod, ipod nano, ipod touch, IpodNano, IpodTouch, nano, radio, radio app, RadioApp, rumor, rumors, touch, tuner
Filed Under
Mobile Phone
. Follow to this entry through the
RSS 2.0
feed.