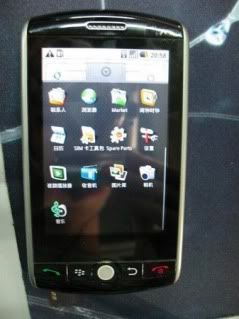 Looks like someone in Shenzhen had time to kill overnight at the Storm factory — and they've put it to good use. Instead of giving us a faux-BlackBerry with a horribly mangled KIRFed-out UI (or at most WinMo) what we have here is a genuine clone with a trackball thrown in for good measure running honest-to-goodness Android 1.5. Dubbed the Broncho A1, this guy features a 600MHz CPU, 3.2-inch capacitive touchscreen, 3.2 megapixel camera, WiFi, GPS, and an FM radio. That's the good news. The bad? 128MB RAM isn't going to do much for you, app-wise. Oh, well. Price and ship date to be announced at a later date.
Share on Facebook
---
---
Tags: Android, Blackberry, broncho, broncho a1, BronchoA1, Cellphones, fake, kirf, knock off, shanzhai, Shenzhen, storm
Filed Under
Mobile Phone
. Follow to this entry through the
RSS 2.0
feed.