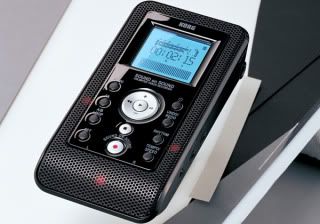 Multitrack digital recorders might not be front and center of the gadget lover's mind right now, but slap that "unlimited" modifier in front and all of a sudden interests are piqued and ears prick up. Korg has made official its new Sound On Sound Unlimited Track Recorder, which will do exactly what its name suggests while keeping each overdub separate for future modification or retuning. You'll be able to fit up to 26 track hours on a 16GB MicroSDHC card and a dedicated guitar input is available alongside mic and line-in ports. Another useful-sounding feature is Sound Stretch, which should allow you to alter speed to between 25 and 150 percent of the original recording without altering pitch. Price is tentatively set at £230 ($375) for a March 2010 release.
Share on Facebook
---
---
Tags: digital recorder, DigitalRecorder, guitar tuner, GuitarTuner, korg, microsdhc, multitrack, multitrack recorder, MultitrackRecorder, namm, namm 2010, Namm2010, recorder, sound on sound, sound stretch, SoundOnSound, SoundStretch, tuner, wav
Filed Under
Mobile Phone
. Follow to this entry through the
RSS 2.0
feed.