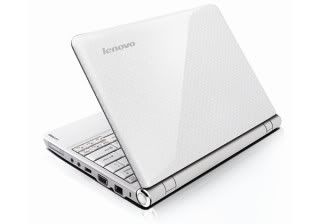 At this point, we're not really sure which date has been discussed more in the history of humanity — the Mayan doomsday prediction or Microsoft's October 22, 2009 launch of Windows 7. Lenovo's S12 was originally supposed to be the first ION-sporting netbook on the scene, but the Chinese company opted to hold back the NVIDIA infusion till Windows 7 showed up, and has been shipping a version of the 12-inch IdeaPad with only standard netbook specs so far. Well, come this Thursday it's out with the old and in with the HD video-decoding new in Japan, where the ION-powered S12 will be unleashed with 2GB RAM, 250GB HDD, a 1280 x 800 glossy display, multicard reader and a HDMI port for company. Priced somewhere near ¥68,800 (about $757), the new machines (available only in white) are likely to dip below $600 when they make their inevitable journey Stateside.
Share on Facebook
---
---
Tags: ideapad, ideapad s12, IdeapadS12, Ion, laptop, lenovo, lenovo ideapad, lenovo ideapad s12, lenovo s12, LenovoIdeapad, LenovoIdeapadS12, LenovoS12, netbook, NVIDIA, nvidia ion, NvidiaIon, S12, Win7, windows 7, Windows7
Filed Under
Mobile Phone
. Follow to this entry through the
RSS 2.0
feed.