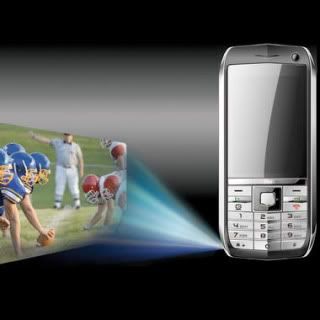 Remember the Bolt from CES 2009? Man, that was ages ago. If you'll recall, projector phones were actually all the rage for around 4.67 minutes at this year's Consumer Electronics Show, and ever since we've been dealt months of nothing alongside one lone ranger of something in the LG eXpo. Evidently Logic Wireless is hoping that we'll forget all about the Bolt that never shipped and instead focus on the next best thing: the 150LGW. Available for order now at Skymall (of all places), the projector phone looks significantly slimmer and more stylish than the company's first crack, and aside from the inbuilt PJ, there's also twin SIM card slots, dual cameras, an Office file viewer, quad-band GSM radio, Bluetooth and Symbian running the show. We aren't too sure we'd be willing to shell out $499 without any proof that this thing is worth its salt, but you can bet we'll be on the hunt for it once CES 2010 opens up next week.
Share on Facebook
---
---
Tags: 150LGW, bolt, Ces, ces 2010, Ces2010, logic Wireless, logic Wireless 150LGW, LogicWireless, LogicWireless150lgw, projector phone, ProjectorPhone, skymall, smartphones, symbian
Filed Under
Mobile Phone
. Follow to this entry through the
RSS 2.0
feed.