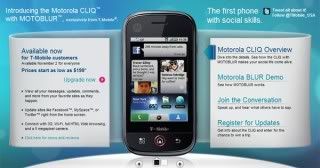 Well now this is a pleasingly rapid transition from announcement to review samples to market availability. Motorola's Android-loving CLIQ (already on sale under the moniker DEXT in the UK), its QWERTY keyboard and all the apps you could desire are now ready to be had, should you already have an account with T-Mobile, the device's exclusive US carrier. It was expected that only pre-orders would be taken today, but it appears for all the world that T-Mobile is ready to start shipping the CLIQ to its loyal customers ahead of the November 2nd full release date. Prices start from the previously reported $199.99 on a two-year agreement — a move that will give you plenty of time to wonder if you shouldn't have waited for more details about the Droid mashup from Verizon, Motorola, and Google.
Share on Facebook
---
---
Tags: 3g, Android, Availability, breaking, breaking news, BreakingNews, CLIQ, dext, motoblur, motorola, motorola CLIQ, MotorolaCliq, qwerty, t-mobile, t-mobile usa, T-mobileUsa
Filed Under
Mobile Phone
. Follow to this entry through the
RSS 2.0
feed.