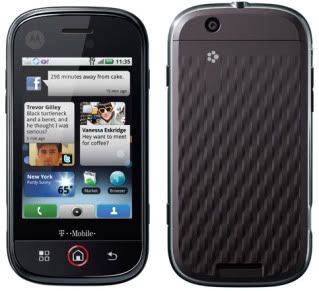 Motorola's Android-laden CLIQ has been available to existing T-Mobile USA users for a hot minute now, but not until today has the handset been widely available to all that care to take notice. Of course, the proper launch has been dampened somewhat by the emergence of the DROID (alongside Android 2.0), but hey, MOTOBLUR ain't nuthin' to scoff at, right? Feel free to locate your nearest T-Mob retail location, waltz in with $199.99 and get yours today.
Share on Facebook
---
---
Tags: Android, CLIQ, google, in stores, InStores, moto, motoblur, motorola, motorola CLIQ, MotorolaCliq, on sale, OnSale, smartphone, t-mobile, t-mobile usa, T-mobileUsa
Filed Under
Mobile Phone
. Follow to this entry through the
RSS 2.0
feed.