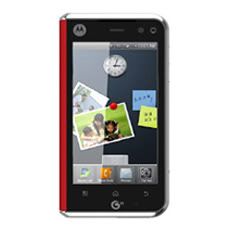 China Mobile is about to spoil its half billion subscribers with yet another Android smartphone in the 3.something-inch category. The Droid's keyboard-deprived younger sibling, the MT710 is about to hit Chinese stores this month, with TD-SCDMA 3G capabilities and OPhone OS 1.5 giving it a distinctly local flavor. WiFi connectivity will also be available, thanks to Moto playing nice with China's new security protocol, and the CPU has also changed to a 624MHz Marvel PXA310 chip, which is growing a bit long in the tooth now. Still, with that dashing red stripe on its side and a presumably thinner chassis, the MT710 just might be somebody's idea of a Droid perfected. You'll find the full specs of the new handset at the Moto Developers links below.
Share on Facebook
---
---
Tags: 3g, Android, china, china mobile, ChinaMobile, droid, marvel pxa310, marvell, MarvelPxa310, motorola, motorola mt710, MotorolaMt710, mt710, ophone, ophone os, ophone os 1.5, OphoneOs, OphoneOs1.5, pxa310, TD-SCDMA, wifi
Filed Under
Mobile Phone
. Follow to this entry through the
RSS 2.0
feed.