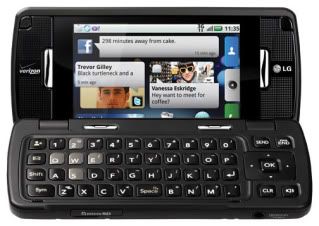 It's a source code-palooza these days! Fresh off that huge HTC code name find, someone's dug into the Motorola CLIQ's source code and found references to a new Motorola device dubbed "La Jolla." Meaning "The Jewel" in Spanish, La Jolla apparently means "low-end Android clamshell" in Motorola-ese, with mention of a WQVGA screen, 528MHz processor and what seems to be a QWERTY keyboard. (What such a phone might look like is pictured above. Thanks, LG). In fact, a QWERTY Android clamshell (the clamshell bit was extrapolated from the display driver by the folks at AndroidandMe, but sounds reasonable) seems to be the perfect cure for the recent rash of QWERTY featurephones we've been seeing lately, perfect for the SMS / email junky that doesn't want to bother with high-powered apps or a big price tag or the resistive touchscreen-only typing of the HTC Tattoo. Now, if only could find some device source code that could solve our trigger shyness brought on by this steady stream of Android handsets — not that we're complaining.
Share on Facebook
---
---
Tags: Android, clamshell, la jolla, LaJolla, motorola, qwerty, rumor, wqvga
Filed Under
Mobile Phone
. Follow to this entry through the
RSS 2.0
feed.