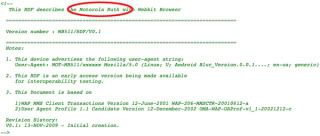 Don't look for it to replace your Droid — or even your CLIQ — but Motorola's got another Android phone coming up here that's likely targeting a decidedly different market. The so-called "Ruth" — model number MB511 — has been unearthed via Motorola's own user agent profile database, revealing a decidedly HTC Tattoo-like QVGA display, GSM / WCDMA radio of some sort, and Qualcomm MSM7200a processor. What's more, we're seeing a mention of Android 1.5 in the browser specs section of the profile — so whatever this is, whatever GSM carriers around the world pick it up, let's hope there's already an Eclair-flavored update in the pipe.
Share on Facebook
---
---
Tags: Android, mb511, moto, motorola, ruth, user agent, user agent profile, UserAgent, UserAgentProfile
Filed Under
Mobile Phone
. Follow to this entry through the
RSS 2.0
feed.