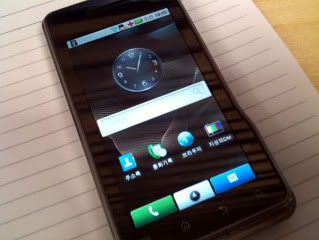 Though its market share pales against the home teams, Motorola has maintained a continued presence in South Korea for some time — and seeing how the company is going all-in with Android globally, it makes sense that they'd be launching it here, too. Enter the alleged XT720, a localized version of the XT701 that's seeing duty on China Unicom on the other side of the Yellow Sea. Rumor has it this will be coming to SK Telecom, but details are sketchy and conflicting: Mirae Asset Research says the phone will feature a 5 megapixel cam while the source of this picture here says it's 8; they're also quoting the screen as a 3.7-inch 480 x 640 unit, but clearly, it's going to be WVGA if the pic is legit. The research firm believes we'll see this launch next month which would likely make this the first high-end device out of Moto to feature BLUR; whether that's a good thing or not, though, is strictly a matter of personal opinion.
Share on Facebook
---
---
Tags: Android, korea, moto, motorola, south korea, SouthKorea, xt720
Filed Under
Mobile Phone
. Follow to this entry through the
RSS 2.0
feed.