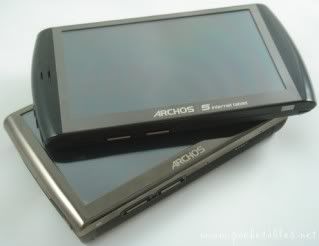 The folks at Pocketables have an Archos 5 Internet Media Tablet with Android in house, and after the requisite unboxing they've put it up against the older, wiser Archos 5 Internet Media Tablet original. It's not quite a fair fight, since the Android model shown here has 32GB of flash storage compared to the old IMT's 250GB HDD (there's also a HDD option for the new Android tablet, a whopping 500GB), but there are some other notable differences like materials and curves. Thankfully for Archos fans those differences don't break compatibility with the optional Archos 5 mini dock, and overall the Android model seems to have just a slight bit of "premium" vibe to it.
Share on Facebook
---
---
Tags: Android, archos, archos 5, archos 5 internet media tablet, Archos5, Archos5InternetMediaTablet, in the wild, internet media tablet, internet media tablet with android, InternetMediaTablet, InternetMediaTabletWithAndroid, InTheWild, unboxing
Filed Under
Mobile Phone
. Follow to this entry through the
RSS 2.0
feed.