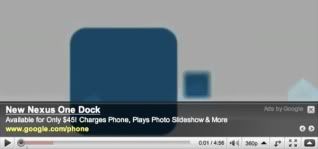 What's this? Another Google ad heralding the imminent launch of a gadget desirable? We're guessing yes just as those Apple ads preemptively signaled the launch of refreshed Macs and new Mighty Mouse. Engadget reader Geoff spotted the YouTube ad above that clearly shows the Nexus One Dock being available… and for "only $45!" For that tidy tithe you'll get a charged phone and the ability to kick off a slideshow — presumably the "and more" refers to Bluetooth 2.1 + EDR and AV tethering we saw in the FCC filing. We give this one a week, tops, before it's available for purchase.
P.S. Don't feel bad, we tried to click the play button too.
Share on Facebook
---
---
Tags: ad, AdSense, dock, google, leak, nexus one, nexus one dock, NexusOne, NexusOneDock, rumor, rumorad
Filed Under
Mobile Phone
. Follow to this entry through the
RSS 2.0
feed.