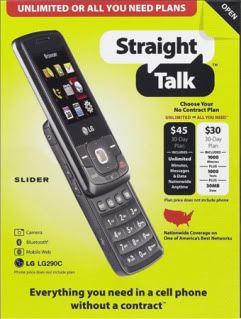 Remember when TracFone horrified the world with its Straight Talk phone selection back in July? Clearly the suits in Bentonville weren't so scared, as now Walmart is latching on to that very plan and claiming it as its own. In over 3,200 of the outfit's retail stores across America, consumers will be able to snag an admittedly pathetic cellie and a rather decent calling plan for just $30 a month. Three Hamiltons gets you 1,000 voice minutes, 1,000 texts and 30MB of mobile web access, not to mention nationwide coverage and free 411 calls. If that's not quite enough, a $45 per month option provides unlimited everything (voice / SMS / mobile web). Of course, the price of using an antediluvian LG 220, LG Slider 290 or Samsung 451 can't be measured in mere dollars, but hey, humiliation's only temporary — right?
Share on Facebook
---
---
Tags: carrier, contract, mvno, operator, pre paid, PrePaid, straight talk, StraightTalk, tracfone, wal-mart, walmart
Filed Under
Mobile Phone
. Follow to this entry through the
RSS 2.0
feed.