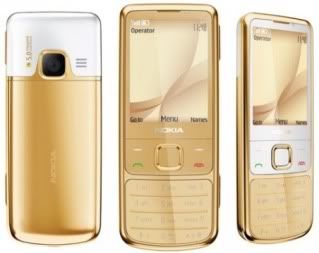 If we know you (and we think we do), your idea of class isn't a modest candybar dipped in gold — no, it's a modest candybar made from hand-cut and polished solid gold. But just in case you feel like slummin' it, the Nokia 6700 Classic Gold Edition is, as the name suggests, a 6700 Classic handset with a limited edition 18-carat finish, some special wallpaper (to compliment the phone's Fort Knox-esque new look), and a €370 (roughly $550) price tag. Tempted? You have until Q1 2010 to come to your senses.
Share on Facebook
---
---
Tags: 6700, 6700 classic, 6700 classic gold edition, 6700Classic, 6700ClassicGoldEdition, candybar, expensive, gold, gold edition, GoldEdition, handsets, limited edition, LimitedEdition, nokia, nokia 6700 classic, nokia 6700 classic gold edition, Nokia6700Classic, Nokia6700ClassicGoldEdition
Filed Under
Mobile Phone
. Follow to this entry through the
RSS 2.0
feed.