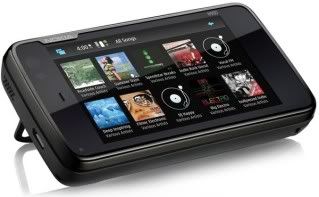 Nokia's Maemo-based future has begun: the N900 is shipping. According to Nokia CEO, Olli-Pekka Kallasvuo, the eagerly awaited handset is now en route to at least some pre-order customers. We'll soon see if this new generation of Nokia smartphones will be enough to generate the type of mass-market / high-margin appeal that Nokia needs at the top end of its product portfolio or if it's just a tentative first step on a potentially wobbly new platform.

Nokia's official blog says to expect the Maemo 5 device to land in "Europe, the Middle-East, Russia and North America" shortly. However, it won't be compatible with the new 3G SIM cards from 3 in the UK, Ireland, Sweden, Denmark and Austria until a software update hits sometime later this year.
Share on Facebook
---
---
Tags: breaking news, BreakingNews, maemo, n900, nokia, now shipping, NowShipping, Olli-Pekka Kallasvuo, Olli-pekkaKallasvuo, OlliPekkaKallasvuo, release, shipping
Filed Under
Mobile Phone
. Follow to this entry through the
RSS 2.0
feed.