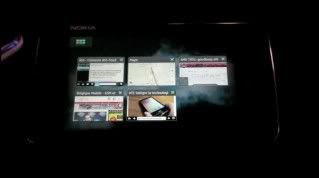 Not satisfied with a video of the Nokia N900′s browser, an in-depth look at its Maemo 5 operation system, or even a glimpse of it playing the odd SNES game? Then fear not, 'cause the device is on the scene at the now-happening Maemo Summit, and it's thankfully been caught on video once again for those not lucky enough to be in attendance. Highlights this time around include a look at the device's 3D gaming capabilities (demoed with a Marble Madness-type game called Bounce Evolution), and a demonstration of the device not only playing YouTube videos in a browser, but within a thumbnail in the Maemo interface — not exactly the most practical thing in the world, but it sure is impressive on a mobile device. Head on past the break to see the whole thing for yourself.
Share on Facebook
---
---
Tags: maemo, maemo 5, maemo summit, Maemo5, MaemoSummit, n900, nokia, nokia n900, NokiaN900
Filed Under
Mobile Phone
. Follow to this entry through the
RSS 2.0
feed.