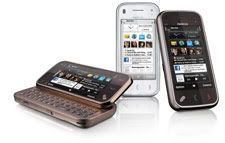 The miniaturized version of Nokia's N97 began shipping to eager consumers in Europe in late October, but for those unable to save their pennies in America while waiting for the N900, today's the day to unload. As of right now, the (obviously unlocked) N97 Mini is shipping from both Dell and Amazon here in the States, with the former offering it for $430 (after coupon) and the latter selling it for $479.99. Any takers? Or has the full-sized N97 already claimed that piece of your heart?
Share on Facebook
---
---
Tags: Amazon, available, dell, n97, n97 mini, N97Mini, nokia, nokia n97 mini, NokiaN97Mini, now Available, now shipping, NowAvailable, NowShipping, s60, ship, shipping, ships, smartphone, symbian, Symbian S60, SymbianS60
Filed Under
Mobile Phone
. Follow to this entry through the
RSS 2.0
feed.