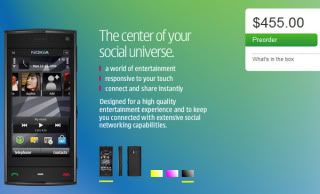 Nokia's downright seductive X6 just started shipping to those across the pond, and shortly after the company announced a Comes Without Music edition, along comes this: a NAM version for those who call North America home, sweet home. The pre-order page (which is live this very moment, by the way) makes no mention of a Comes With Music requirement, giving you complete freedom to shove whatever you darn well please onto what's left of that 16GB after the OS install and a hidden 'thank you' note from Olli-Pekka Kallasvuo. So, is that $455 peeking out of your Fifth Pocket really that important to you?
Share on Facebook
---
---
Tags: available, capacitive, nam, nokia, nokia x6, nokia x6 16gb, NokiaX6, NokiaX616gb, now Available, now shipping, NowAvailable, NowShipping, ship, shipping, ships, smartphone, us, usa, x6
Filed Under
Mobile Phone
. Follow to this entry through the
RSS 2.0
feed.