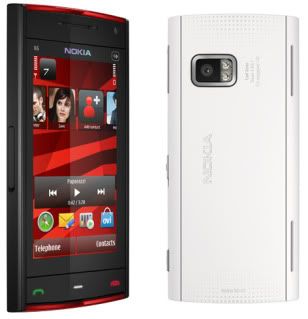 What are you thankful for today? If you live in Finland or the UK and pre-ordered a X6 then you might be obliged to Nokia for having just set your new handset free. That's right pilgrims, Nokia's new flagship Comes with Music handset is now shipping. The X6 you'll recall, introduces S60 5th to a 3.2-inch capacitive touchscreen riding 32GB of storage, a 5 megapixel camera with dual-LED flash, TV-out, and tweaked homescreen with a media/social-centric layout. The X6 lists for €450 (pre-tax and pre-carrier subsidies) — a price that ultimately includes the cost of Nokia's struggling "all-you-can-eat" music service. Perhaps this is the device that finally gives the service legs? Maybe, but we'd start by following through on plans to strip the DRM.
Share on Facebook
---
---
Tags: capacitive, capacitive touchscreen, CapacitiveTouchscreen, Comes with music, ComesWithMusic, finland, nokia, s60 5th, s60 5th edition, S605th, S605thEdition, shipping, uk, x6
Filed Under
Mobile Phone
. Follow to this entry through the
RSS 2.0
feed.