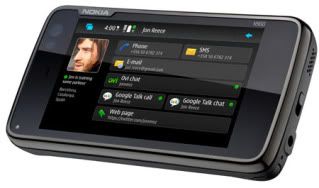 We've already given you a glimpse at the N900, but as of today, you Yanks in the crowd can wrap your own limber paws around Nokia's hero device. Admittedly tailored for enthusiasts and developers to use while the company maneuvers Maemo into its product line, the N900 is now available through Nokia Flagship stores in New York and Chicago, the firm's website and "various independent retailers and e-tailers." A tidy sum of $649 (or $510 if you're smart enough to check Amazon) nabs you an unlocked version with a 5 megapixel camera, 32GB of internal storage and a bombastic, Flash-lovin' web browser. Ain't no shame in lusting after one, but tell us earnestly — are you forking out nearly seven bills to bring one home?
Share on Facebook
---
---
Tags: chicago, flagship, maemo, maemo 5, Maemo5, n900, new york, NewYork, nokia, nokia n900, NokiaN900, resistive, resistive touchscreen, ResistiveTouchscreen, smartphone
Filed Under
Mobile Phone
. Follow to this entry through the
RSS 2.0
feed.