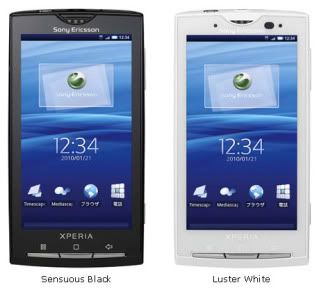 WinMo and Android handsets from HTC, Sony Ericsson, Samsung, and others that are designed for global reach typically don't find their way into Japan for a number of reasons: localization, carriers' draconian control over handset specs, unique market needs, the list goes on. Every once in a while, though, one'll break through — take the Xperia X10, for example, which has now been announced for release on NTT DoCoMo simply as the "Smartphone Xperia," making it the first major carrier anywhere to announce a branded deal on the set. It looks to be a pretty faithful carry-over of the same custom Android skin Sony Ericsson is launching elsewhere and features 7.2Mbps down / 2.0Mbps up, WiFi, an 8.1 megapixel cam, and availability in "Sensuous Black" and "Luster White." It'll be hitting in April — right about the same time we suspect it'll be launching elsewhere.
Share on Facebook
---
---
Tags: Android, docomo smartphone xperia, DocomoSmartphoneXperia, ericsson, japan, ntt docomo, NttDocomo, smartphone xperia, SmartphoneXperia, sony, X10, xperia
Filed Under
Mobile Phone
. Follow to this entry through the
RSS 2.0
feed.