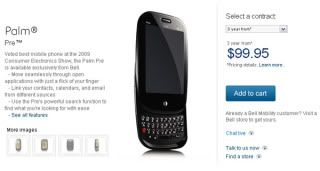 Just weeks after Palm's Pre sunk to CAD $149.95 on Bell, the outfit's first-ever webOS phone has now stooped to just CAD $99.95. That still requires a 3-year contract, of course, but man — a single bill for a smartphone like the Pre? Anyone tossing out guesses on how long it takes Sprint to follow suit (and embarrass the Pixi)?
Share on Facebook
---
---
Tags: bell, Canada, global, international, palm, palm pre, PalmPre, pre, price drop, PriceDrop, pricing, smartphone, webos
Filed Under
Mobile Phone
. Follow to this entry through the
RSS 2.0
feed.