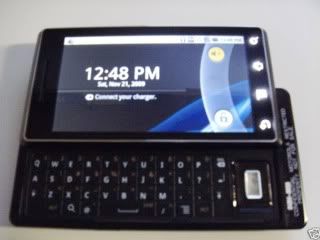 Wishing you could get a Motorola Droid and stand out from all your Android-toting friends at the same time? Then you might just want to consider bidding on this "limited edition" Droid prototype that just turned up on eBay, which has a reasonably good chance of being an actual Droid, and a slight chance of being an actual prototype. If the seller is to be believed, however, this particular Droid is one of only five produced, and is different from the standard issue Droid in a few respects — including a chrome bezel instead of a black one, silver buttons instead of gold, and some "enhanced LED lighting" on the front buttons. It also apparently works just fine, and is ready to be activated. Willing to take the chance? Bidding starts at $485.
Share on Facebook
---
---
Tags: auction, droid, ebay, moto, motorola, motorola droid, MotorolaDroid, prototype
Filed Under
Mobile Phone
. Follow to this entry through the
RSS 2.0
feed.