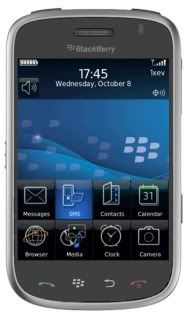 We know you love widgets, so feast your eyes on this: RIM has just announced a software development kit for creating web-based widgets on the BlackBerry platform. With new APIs that allow access to a everything from email and calendar applications to the GPS, media player, files and documents stored on the smartphone, the handset's push technology and more, hot-to-trot software developers such as yourself can build all kinds of crazy apps for OS 5. What are you waiting for? Hit the read link for everything you need — including the Smartphone Simulator and BlackBerry Widget SDK beta. And be sure you drop us a line after creating some award-winning apps.
RIM Announces Widget SDK for the BlackBerry Platform
Enables Third Party Software Developers to Build Web-Based Applications for BlackBerry Smartphones
WATERLOO, ONTARIO–(Marketwire – Oct. 6, 2009) – ResearchIn Motion (RIM) (NASDAQ:RIMM)(TSX:RIM) today announced the BlackBerry WidgetSoftware Development Kit (SDK) to enable third party application developers tobuild rich, integrated applications for BlackBerry® smartphones using commonweb technologies. With the new BlackBerry Widget SDK, developers can buildweb-based applications for BlackBerry smartphones with advanced features andfunctionality, a capability only previously available for BlackBerryapplications written in Java®.
A BlackBerry Widget uses the BlackBerry® Browser engine torender an application's user interface using HTML, CSS, and JavaScript.Developers are able to use existing web content to create BlackBerry Widgetsand extend the capabilities of their web applications using BlackBerry WidgetAPIs.
Using the new BlackBerry Widget APIs, developers can, forexample, create seamless interaction between a widget and the BlackBerry emailand calendar applications, create widgets with the ability to view or editfiles and documents stored on the smartphone, access location-based services orthe media player, and more. Developers can also take advantage of RIM's uniquepush technology, enabling dynamic widgets that can run in the background andprovide proactive alerts to users in a timely manner.
"BlackBerry Widgets open up a world of opportunities fordevelopers to build and bring to market web applications for BlackBerrysmartphones that offer advanced, integrated functionality and an always-on userexperience," said Alan Brenner, senior vice president, BlackBerry platforms atRIM. "We are very excited by the prospects of this new widget developmentplatform which combines the ease of development of standard web languages withthe rich functionality of Java development."
BlackBerry Widgets can be easily distributed over-the-air,via BlackBerry App World™ (www.blackberry.com/appworld)or through BlackBerry® Enterprise Server in corporate environments.
Support for BlackBerry Widgets will be available onBlackBerry smartphones that run BlackBerry® OS 5.0, which will include anenhanced BlackBerry Browser with support for Gears, SQLite and the newBlackBerry Widget APIs. A beta release of the BlackBerry Widget SDK is availabletoday at www.blackberry.com/developers/widget.
Developers interested in learning more about buildingBlackBerry Widgets are encouraged to attend the 2009 BlackBerry DeveloperConference (www.blackberrydeveloperconference.com),November 9-12 in San Francisco. More information is also available onBlackBerry Developer Zone (www.blackberry.com/developer).
Share on Facebook
---
---
Tags: Blackberry, Cellphones, dev kit, devkit, emulator, rim, sdk, simulator, widgets
Filed Under
Mobile Phone
. Follow to this entry through the
RSS 2.0
feed.