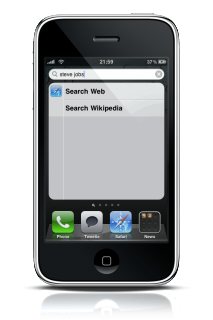 Apple has done a hilarious job bringing its iPhone OS up to feature parity while comparing it with the other modern smartphone platforms, and here is one big thing not discussed today that we have been long wanting: web and Wikipedia search directly from Spotlight. WebOS and Windows Phone 7 have had it since inception, and Android's had it since Donut, and this makes us quite contented and we say that our very own OS 4.0-equipped iPhone is now also among the ranks, just 13 months after it first got a search bar.
Share on Facebook
---
---
Tags: Apple, iphone, iphone os, iphone os 4, iphone spotlight, IphoneOs, IphoneOs4, IphoneSpotlight, os 4, Os4, search, spotlight, spotlight search, SpotlightSearch, universal search, UniversalSearch, web, wiki
Filed Under
Mobile Phone
. Follow to this entry through the
RSS 2.0
feed.