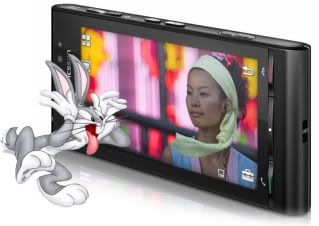 Adding insult to Sony Ericsson's injurious bottom line, Carphone Warehouse and Phones 4U shops (the UK's largest mobile phone retailers) have halted sales of the SE's Symbian-powered Satio handset after a high number of customer returns and complaints. A "software glitch" reportedly causes Sony Ericsson's flagship device to power down when users try to access certain applications — unfortunately, the issue can't be patched via an over-the-air update. A little digging into CPW discussion forums reveals multiple complaints of freezes, crashes, under-performing batteries, and bizarre interface behavior. Both the Carphone Warehouse and Phones4U will offer "new phones" to customers fed up with their Satio. Richard Dorman, senior marketing manager at Sony Ericsson, concedes the issue and assures us that it should be sorted by Christmas. Until then, you can still purchase the handset directly from Vodafone, Orange and T-Mobile… but really, why would you? The Satio's not the only dubiously-speced 12 megapixel cameraphone on the market.
Share on Facebook
---
---
Tags: 12 megapixel, 12Megapixel, Bug, buggy, bugs, cameraphone, Carphone Warehouse, CarphoneWarehouse, glitch, Phones 4U, Phones4u, retail, richard dorman, RichardDorman, sales, satio, SONY ERICSSON, SonyEricsson, symbian
Filed Under
Mobile Phone
. Follow to this entry through the
RSS 2.0
feed.