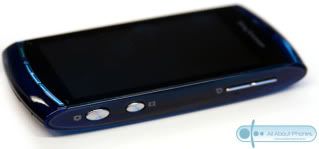 The former Kurara caterpillar has now sprouted into a Vivaz butterfly, and what do you know, all its lustrous color options have already been handled and explored by Dutch site All About Phones. We're told that early leaks and spy shots did a disservice to the handsome styling of the handset, which borrows some design cues from the Xperia X10. It's smaller than you might think, apparently, and a delight to handle, though the back has an unfortunate taste for fingerprints. The Symbian S60 5th onboard is said to be "remarkably fast," and an improvement over the implementation on the Satio. We couldn't resist snatching one more photo with all four hues on display, which can be found after the break, but you'll have to read that source link for the full dish and photoshoot.
Update: Hey, SE has been kind enough to supply us with a developer preview video, which you'll find right after the break, thanks XRX.
Share on Facebook
---
---
Tags: hands-on, kurara, s60, s60 5th edition, S605thEdition, smartphone, SONY ERICSSON, sony ericsson vivaz, SonyEricsson, SonyEricssonVivaz, symbian, Symbian S60, SymbianS60, vivaz
Filed Under
Mobile Phone
. Follow to this entry through the
RSS 2.0
feed.