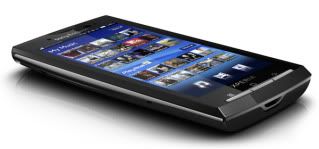 Man, the loot you can uncover when you go snooping around spec pages. That most ambitious of Sony Ericsson projects, the XPERIA X10, is still a long way from being released, but already we can narrow down the list of potential US carriers to just one: AT&T. The guys over at Phandroid were the first to spot the newly added UMTS frequency specs for the phone, and the available 800/850/1900/2100 bands fit only AT&T's 3G network. That's gonna be a bitter pill to swallow if you were looking for something like (or better than) an iPhone, but were put off by the wireless provider. Then again, with pre-order prices for unlocked X10s showing up at $999 in some places, maybe you can just look at our lukewarm hands-on and convince yourself this phone ain't worth it anyway. Go on, you know denial makes sense.
Share on Facebook
---
---
Tags: 3g, Att, carrier, ericsson, frequencies, smartphone, sony, SONY ERICSSON, sony ericsson xperia, sony ericsson xperia x10, SonyEricsson, SonyEricssonXperia, SonyEricssonXperiaX10, umts, Wireless, wireless networks, WirelessNetworks, xperia, xperia x10, XperiaX10
Filed Under
Mobile Phone
. Follow to this entry through the
RSS 2.0
feed.