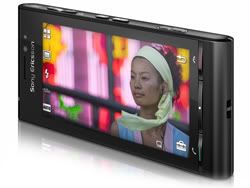 We've got an old-fashioned Sony Ericsson-gate developing this winter with some clarification and new information on two of the company's highest-end phones of the season, the Aino and Symbian-powered Satio. First up, as we've updated in our original post, the Aino was never pulled from shelves — we've been able to confirm this with Sony Ericsson spokespeople directly, which also satisfactorily explains why it was never pulled from the US SonyStyle site. Secondly, good news for Satio owners affected by the phone's issues: there's a new firmware out there for unbranded units, which suggests that units that are already in the field might not need to be recalled despite Sony Ericsson's admission that the power-down problem can't be fixed over the air. For what it's worth, we've been in touch with Carphone Warehouse today and they haven't yet put it back on sale — so it's hard to say just how closely related the new build is to the most damning problems facing the phone right now. Owners who've upgraded: what have you noticed so far?
Share on Facebook
---
---
Tags: aino, ericsson, firmware, recall, satio, sony, SONY ERICSSON, SonyEricsson, update, upgrade
Filed Under
Mobile Phone
. Follow to this entry through the
RSS 2.0
feed.