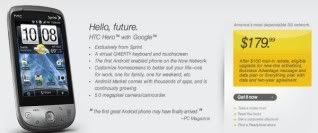 Sure, you've been able to get it a little early in one way or another, but the Sprint HTC Hero officially launched today, which means a second US carrier is now selling an Android device. High five. Now, is anyone spending the $179 ($479 off-contract)? And Sprint customers, we have to ask: Hero or Pre?
Share on Facebook
---
---
Tags: Android, hero, htc, htc hero, HtcHero, on sale, OnSale, sprint, sprint hero, sprint htc hero, SprintHero, SprintHtcHero
Filed Under
Mobile Phone
. Follow to this entry through the
RSS 2.0
feed.