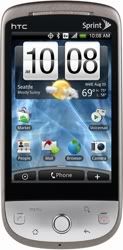 We don't have details on exactly what has changed yet, but that minor Android 1.5-based update Sprint had announced it'd be pushing out to the Hero has now launched. The best-case scenario would have the SMS issue — which causes the phone to stay awake when it shouldn't — get resolved, but until Sprint hands out a proper changelog, it'll be a matter of testing and guessing. Just a thought: if they've managed to squeeze a proximity sensor into the update, that brings 'em up to the speed with the Droid Eris. Hey, it could happen.
Share on Facebook
---
---
Tags: Android, firmware, fota, hero, htc, ota, sprint, update
Filed Under
Mobile Phone
. Follow to this entry through the
RSS 2.0
feed.