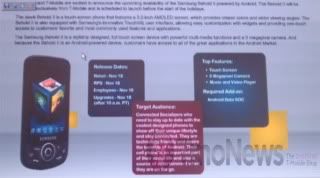 The CLIQ might be getting the lion's share of the Android spotlight on T-Mobile at the moment, but it's not the only Google-equipped gear in the carrier's pipeline — the other big news there would be the Behold II from Samsung, a logical successor to the myTouch 3G with an AMOLED display and 5 megapixel cam. Seems like there's a little bit of a wait left, because TmoNews has scored some launch documentation suggesting that they're planning on a November 18 to get it pushed out to the public (and let's be honest, we'd all rather have that positively sick nasty myTouch Fender Limited Edition anyhow). Moving our attention downmarket, there's apparently a self-branded (read: a manufacturer you've never heard of) full touch device called the "Tap" that'll be hitting on the 11th of next month, likely slotting in below the Highlight in the carrier's range. No offense, there, Tap, but we're going to have to take a Behold II over ya.
Share on Facebook
---
---
Tags: Android, behold ii, BeholdIi, rumor, samsung, t-mobile, tap
Filed Under
Mobile Phone
. Follow to this entry through the
RSS 2.0
feed.