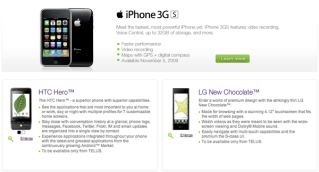 Telus already announced that it'd be launching the iPhone in November, but it's just now gotten official with an actual date: November 5th — which just so happens to also be the day that it lights up its brand new HSPA+ network. Unfortunately for anyone hoping that a little competition would spark a price war, Telus is matching Rogers' prices across the board, starting at $99.99 for the basic 8GB iPhone 3G, and moving up to $199.99 for the 16GB 3GS, and $299.99 for the 32GB 3GS (all on a three-year contract, of course). What's more, Telus has also taken the opportunity to offer the first official confirmation of some of the other devices that'll take advantage of its new network, including the HTC Hero, the previously rumored LG New Chocolate (a.k.a BL40), the Blackberry Bold 9700, and the Nokia E71 (plus a USB stick, for good measure). No prices or release dates for any of those just yet, unfortunately, but the Hero and New Chocolate are apparently Telus exclusives.
Share on Facebook
---
---
Tags: Apple, bl40, Blackberry, blackberry bold, blackberry bold 9700, BlackberryBold, BlackberryBold9700, bold, bold 9700, Bold9700, Canada, E71, hero, hspa, htc hero, HtcHero, iphone, iphone 3g, iphone 3gs, iphone3g, Iphone3gS, lg bl40, lg new chocolate, LgBl40, LgNewChocolate, new chocolate, NewChocolate, nokia e71, NokiaE71, Telus
Filed Under
Mobile Phone
. Follow to this entry through the
RSS 2.0
feed.